SheKnows.com: David Bromstad Teaches Us How To Select Art.
"YOUR ART SHOULD REFLECT WHO YOU ARE AS A PERSON"
When he's not hosting some of television's hottest design shows, David Bromstad is creating art. Known for his bold wall installations and keen eye for color, he also has the skinny on finding the perfect art piece for any space.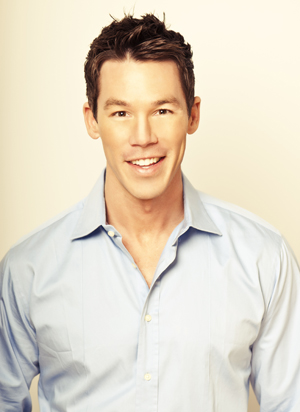 We caught up with this design whiz and got his tips for choosing art that will create a fabulous home (even on a not-so-fabulous budget).
Staring at bare walls
Most people might assume that Bromstad chooses paint color first, but it's actually one of the last decisions he makes when designing a room. He typically starts with what he calls "the big dramatic moment" in the space. This often is the most expensive aspect of the room whether it's an installation or piece of furniture (not your TV, he notes). For most people, Bromstad says it's usually the couch or bed that's the most dramatic piece. From there he selects a rug, chairs, coffee table, drapes, lighting, accessories, then the paint color. And he frequently selects artwork last in the space. Yes, last.
"To me, wall art is like that little cherry on top of a sundae — it just makes it."
Bromstad tells us, "If you choose your artwork too quickly then sometimes the work inhibits the look of the room." By selecting art last, you can add certain elements that are lacking in the room. "Does the room need some humor? Does it need something abstract? Does it need a piece of pop art," Bromstad asks. "To me, wall art is like that little cherry on top of a sundae—it just makes it."
If you do find a piece of artwork that you want to design a whole room around, Bromstad says, "you can pull colors, patterns and textures from that piece of art and really be inspired by it."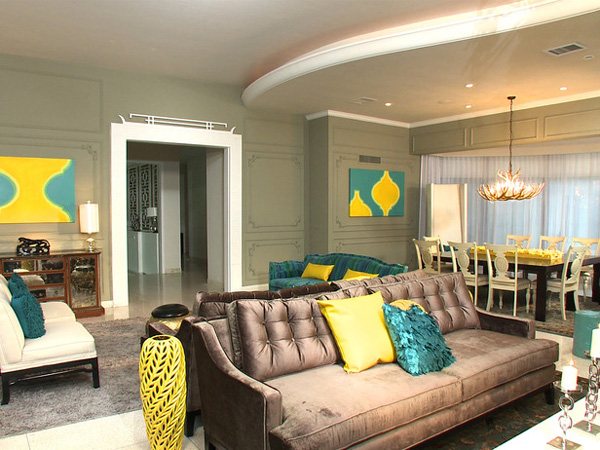 Art 101
SheKnows: What's the difference between wall art and fine art?
Bromstad: Wall art is something that you find at Pier 1 or West Elm, and it's usually objects that you place on the wall to create art. Decorative mirror sunbursts, different textures of wood — things that are items and objects creating art on the wall is wall art. Fine art is a painting, basically.
SheKnows: Abstract versus figurative art? Give us the rundown on each.
Bromstad: Abstract art is exactly how it sounds. It's abstract. You really can't tell what it is. It's the Mondrian. It's the things that you look at and you're like, "Oh it's a square and a bunch of paint across the canvas." That's abstract. You can't really tell what it is.
You can tell what figurative art is. It's a human; it's a flower. It can be representational or realistic. It can be photo-realistic, or it can be something that is Picasso-esque. Figurative is something that's based on an element in real life.
SheKnows: How do you choose art that's proportionate to the space?
Bromstad: I personally like big pieces of art. If you're getting a big piece of art to hang above your couch, bed, dresser, credenza or some piece of furniture, you definitely don't want to go wider than the piece you're putting it in front of. So if you have a six-foot couch, you don't want to put a seven-foot painting — keep it six feet or less. If it goes bigger, then it will look a little top heavy and strange.
If you want to do smaller pieces, keep it confined to the area that you're hanging it above. If it's above the bed, then keep it within the lines of the bed frame.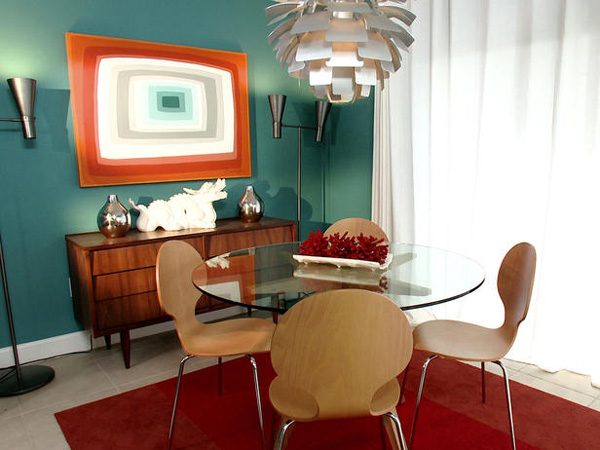 Buying your first "grown-up" art piece
SheKnows: What's a good price range for someone who is looking to upgrade from that Monet poster they got in college to their first "grown-up" art piece?
Bromstad: If you want to purchase your first "grown-up" art piece, but still don't want to spend a ton of money on the original, consider stretch canvases. They're amazing.
Stretch canvases look beautiful, and they look like original pieces of art because they are on canvas. They can start around $100 and go up in price for large-scale pieces. HomeGoods, Pier 1 and Z Gallerie have great stretch canvases (and wall art too). Pennylanepublishing.com is where you can get my artwork. The quality of the prints are unbelievably amazing. Really, really beautiful.
SheKnows: What if you're still on a "ramen-noodles-only" type of budget? How can you bring fab artwork home?
A great way to get original pieces of artwork inexpensively is to go to your local artists. There are local artists all over the place, no matter how small your town is. There are "arty parties," monthly art walks and galleries, which are always fun. These are struggling artists — people who are trying to make it — and usually a lot of their artwork is very inexpensive, sometimes even more inexpensive than buying a stretch canvas. It all depends on the level of where the artist is. Or, if you want to do your own original artwork, go for it! That's always fun. Definitely the most inexpensive way to bring a piece of original art into your space is to do it yourself.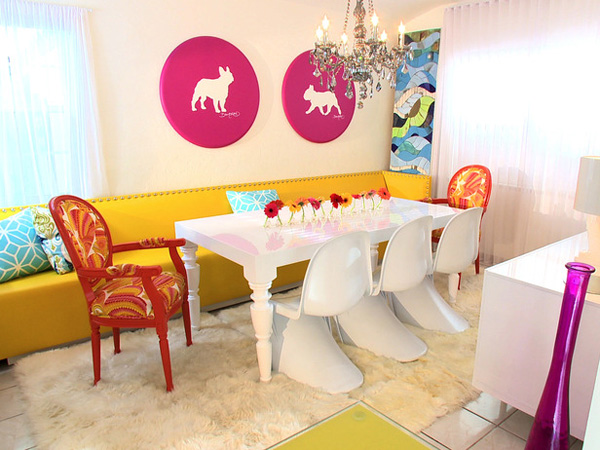 DIY Style
SheKnows: How can we create DIY art ourselves that doesn't look like an arts and crafts project brought home by the kids?
Bromstad: Start simple. Paintings do not have to be complex to look great.
Grab a few colors and use a base coat of color on the canvas or keep the background white. Use painter's tape to tape off a cool pattern or object like an arrow, abstract heart (or even just a square or triangle) but position it so that it's a little off-center. Taping it off will give you more professional lines and professional edges than doing it freehand. Keep it clean; keep it graphic; keep it simple.
SheKnows: What kind of paints do you use for your canvases?
Bromstad: I use Nova Color. It's an artist paint that's used for scenic painting. The saturation and quality of paint is unbelievable. It comes in quarts and is really affordable. It's amazing.
Personal faves
SheKnows: What are some of your personal favorites when it comes to art?
Bromstad: Right now I'm going through a pop art type of phase. Basically taking a mundane object, like a banana, and painting the object on a white background. Really simple, nothing complex, but it can mean a lot of different things to different people.
SheKnows: Art for the bedroom versus art for the living room: Is there a difference in selecting art for various rooms of the house?
"To me, there's no rule. It all depends on your personality. Your art really should reflect who you are as a person."
Bromstad: To me, there's no rule. It all depends on your personality. Your art really should reflect who you are as a person. You know what you like and the art needs to represent who you are in that specific space.
I like to be fun and edgy and quirky and crazy and put a big banana in my bedroom so that people will come in and laugh, but a lot of people want a landscape in their bedroom cause it's calming and serene. It's really up to the person's personality. There's no wrong or right answer.